SHP Group with Harmony Professional and Paloma Professional Brands at International Exhibition ISSA INTERCLEAN in Amsterdam

The largest international exhibition ISSA Interclean focused on professional hygiene was held in Amsterdam from 15 to 18 May 2018. The latest trends and innovative news in the field of paper hygiene and cleaning industry were presented at the exhibition. The 70,000 m² exhibition was divided into thirteen halls where more than 892 exhibitors from 40 countries of the world presented their product portfolio. The exhibition had a record attendance of 33 710 visitors from 140 countries.
At the exhibition, SHP Group presented itself with Harmony Professional and Paloma Professional brands aimed at customers of the Away from home segment. SHP Group's sales and marketing team participated in the exhibition. Within the presentation of SHP Group, we introduced not only products of paper hygiene (toilet paper, jumbo toilet paper, folded toilet paper, rolled and folded towels, kitchen towels, napkins, facial tissues) but also additional assortment in the form of soaps and dispensers.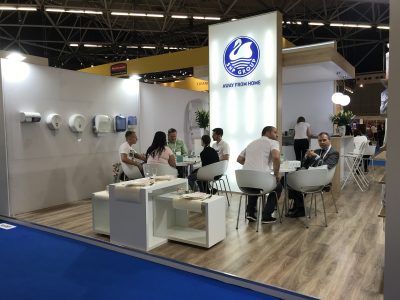 The exhibition also featured our competitors – Tork (SCA), Papernet (Sofidel), Katrin (Metsä Tissue), Lucart Professional (Lucart), Bulky Soft (Cartiere Carrara), Kimberly – Clark Professional (Kimberly – Clark) and others. They especially presented innovative novelties, such as toilet papers with additional features (quick solubility, toilet paper without roll, odor neutralizing paper), handkerchief in plastic film with handle (so called handypack package), various types of hand towel folding and dispensers with functional features (e.g. monitoring the amount of paper in the dispenser).
Visitors of the SHP Group's stand appreciated its innovative design and product portfolio. Visitors were especially interested in products that may be combined with dispensers and products made of white recyclable paper and cellulose, colored napkins and innovations within the product portfolio. The exhibition may be considered as successful also for the SHP Group Company regarding the attendance of its stand and gaining new potential contacts. We believe that we will successfully utilize new business opportunities in favor of growth and development of the Away from Home segment.