Toilet paper rolls – what to make from them?

So far, you've been throwing them away and from now on we'll give you a reason to keep them. More than just one! Toilet paper rolls do not automatically need to end up in the trash. They can also be used as a little helper or decoration. You only need a skillful pair of hands and a little bit of imagination.
There are several options for a used toilet paper roll. One of them is to step on it and throw it into garbage. This paper has been recycled so many times that the roll is already a final product that cannot be restored. The second option is to put it in a compost. Rolls (including those from kitchen wipes and tinfoil) will then add the carbon needed for plants to the compost.
Other inspirational ways to use the rolls:
1. Bird feeder
A very simple way to kill two birds with one stone. On top of that, even younger children can do it with little help.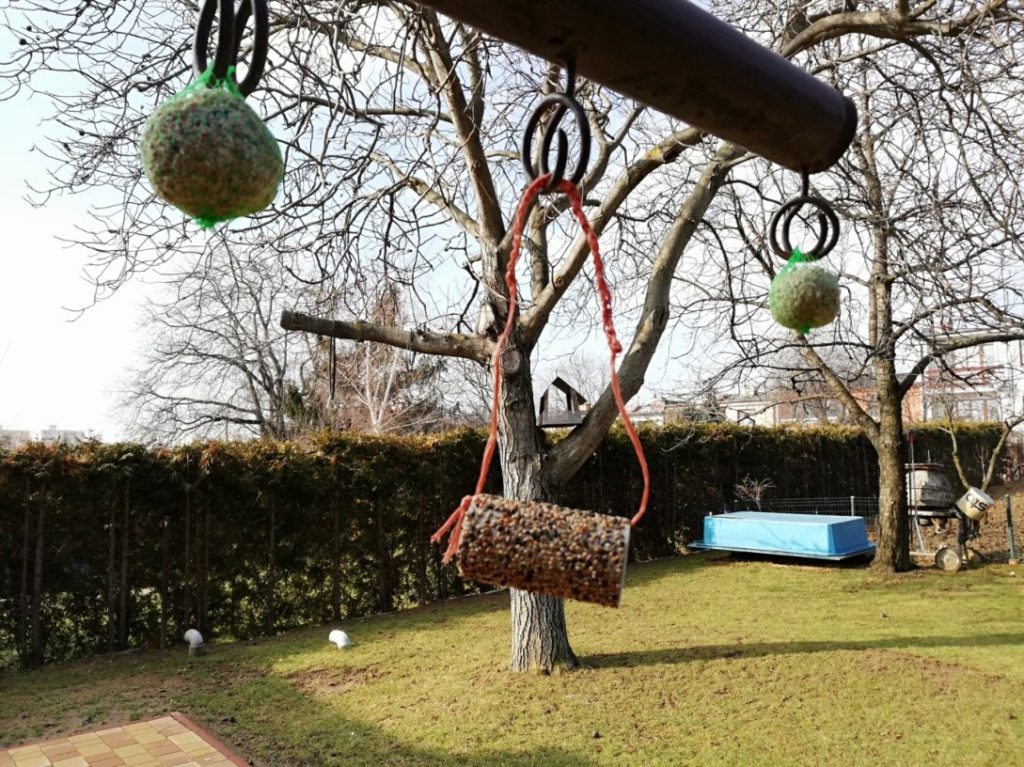 You will need:
a toilet paper roll,
two-sided tape,
scissors,
string,
seeds suitable for birds.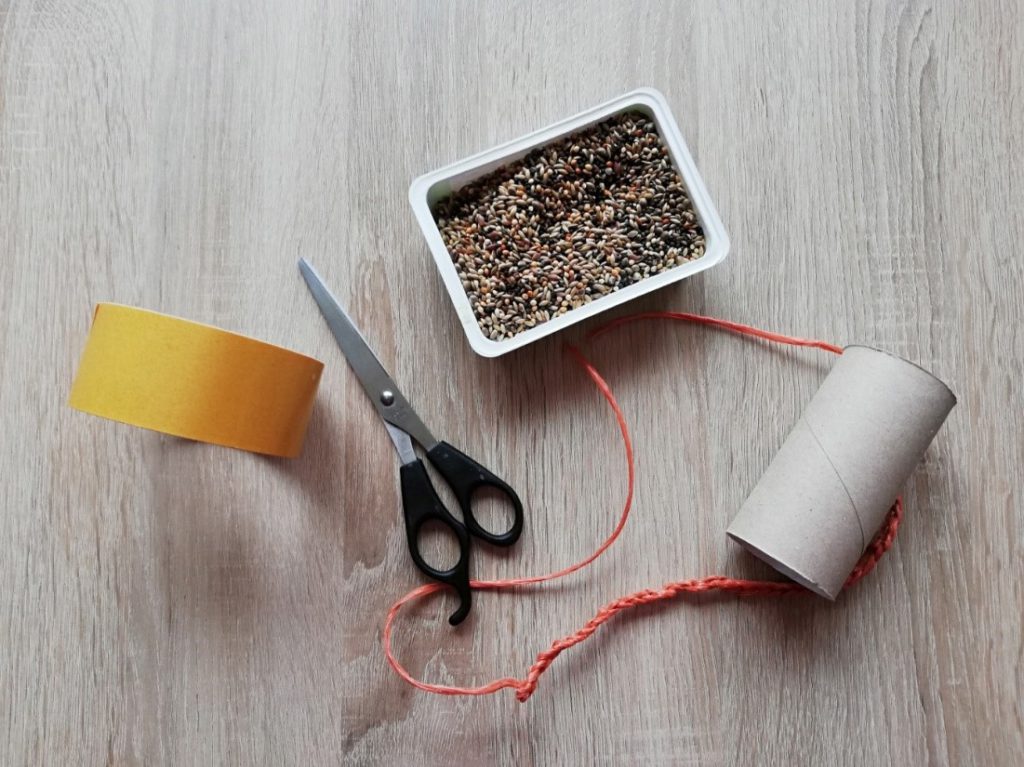 Instructions:
1. Stick the double-sided tape around the roll and press it firmly without changing the shape of the roll. We do not use glue as the paper would get wet.
2. Put seeds and grains into a larger bowl or on a table. Remove the top of the tape and roll the roll over the seeds until you have a whole roll covered.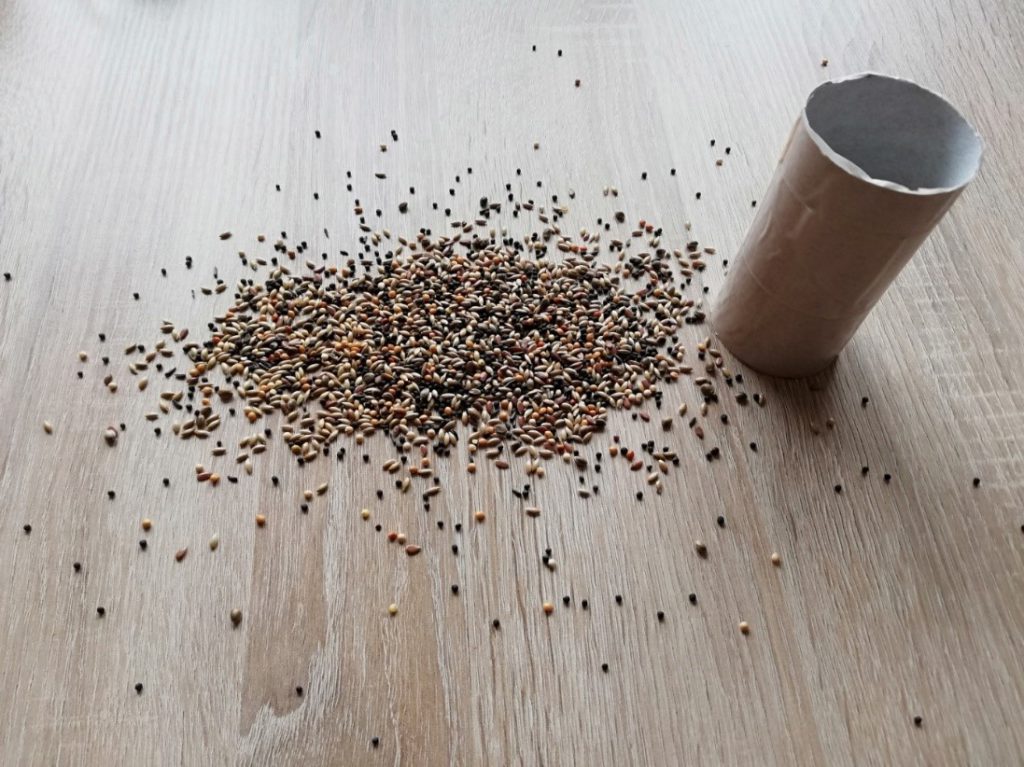 3. Finally, thread a thicker string through the roll and hang on a branch.
Tip from us: You can make bigger holes in this feeder and stick firmer branches into it. Birds will have a place to land and feed.
2. Gift package
Small things and gifts are sometimes difficult to pack. If you do not have a decorative box right at hand, you can also create one in a few minutes from a toilet paper roll. Alternatively, if you need a longer box, you can also use a roll from kitchen towels.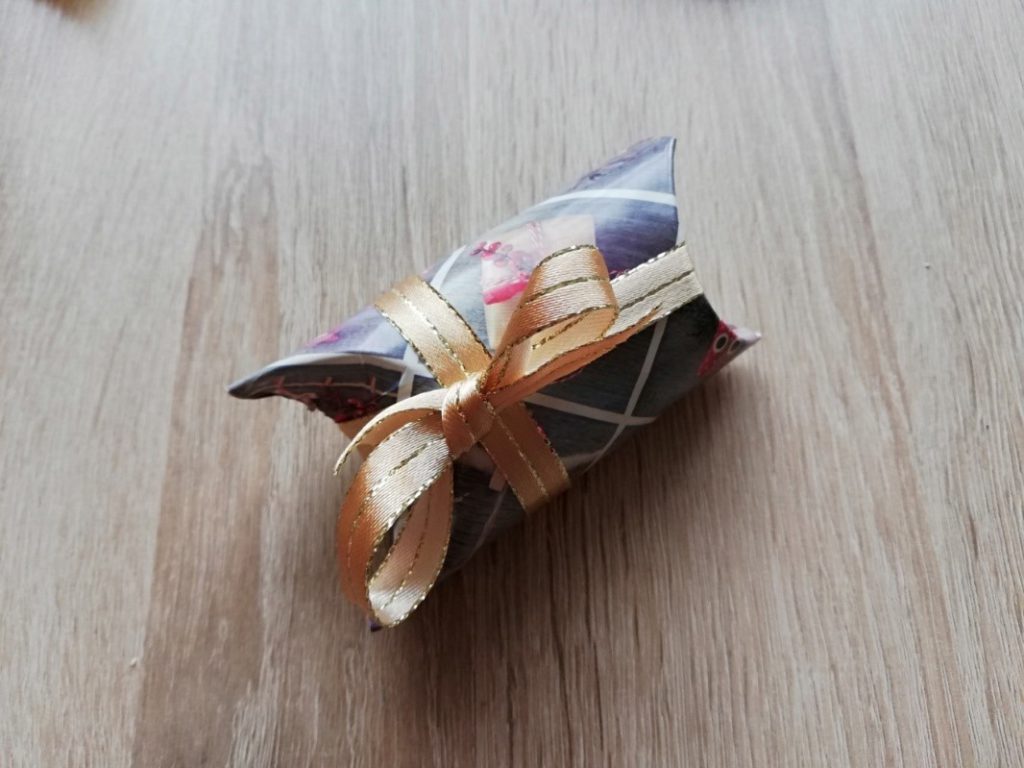 You will need:
a toilet paper roll,
two-sided tape,
scissors,
wrapping paper,
decorative ribbon.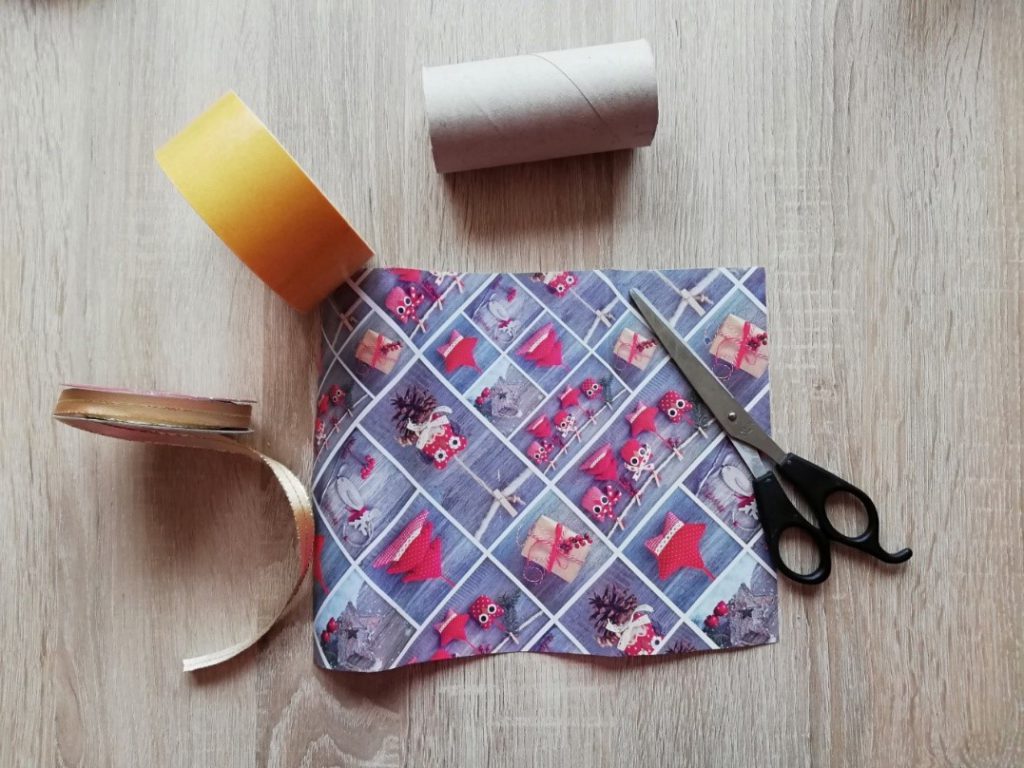 Instructions:
1. Stick the double-sided tape around the roll in the same way as with the feeder.
2. After removing the top of the tape, wrap the roll with the wrapping paper. Cut the overlapping pieces of paper. To fixate the ends of paper, use a bit of a glue.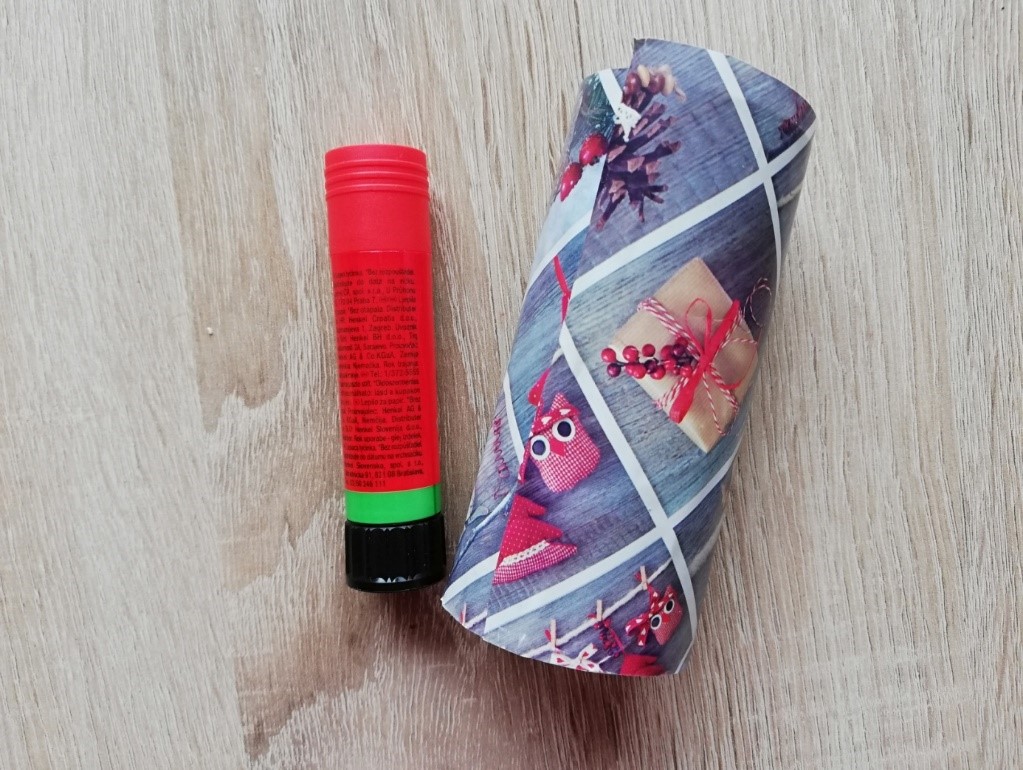 3. Break both halves of both ends of the roll in half so that the hole is closed. Press the edges several times to hold together well.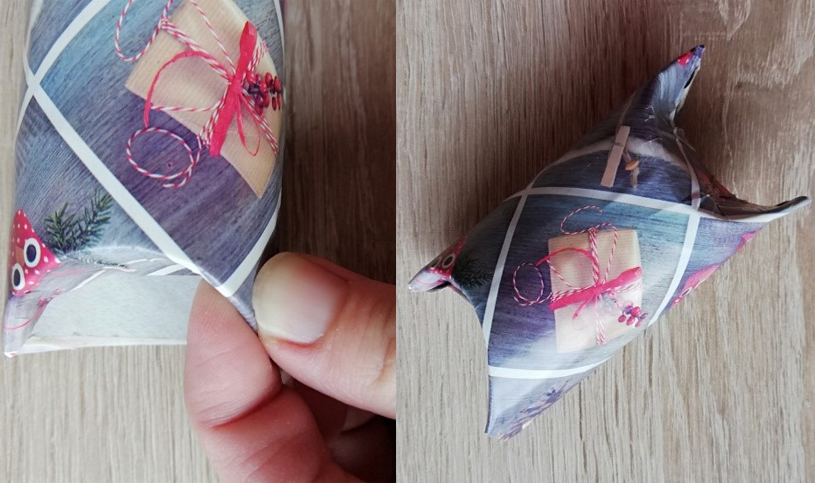 4. You can stick a small bow, a gift star on it or tie a ribbon around it.
Tip from us: You can also use such mini packages during Advent as a calendar. Just put a nice message or something sweet in them, mark them with numbers from 1 to 24 and place them in the basket.
3. Paper flowers
Paper rolls can also be used to make simple decorations, such as flowers. You can match them to anything in the interior, just choose the right color.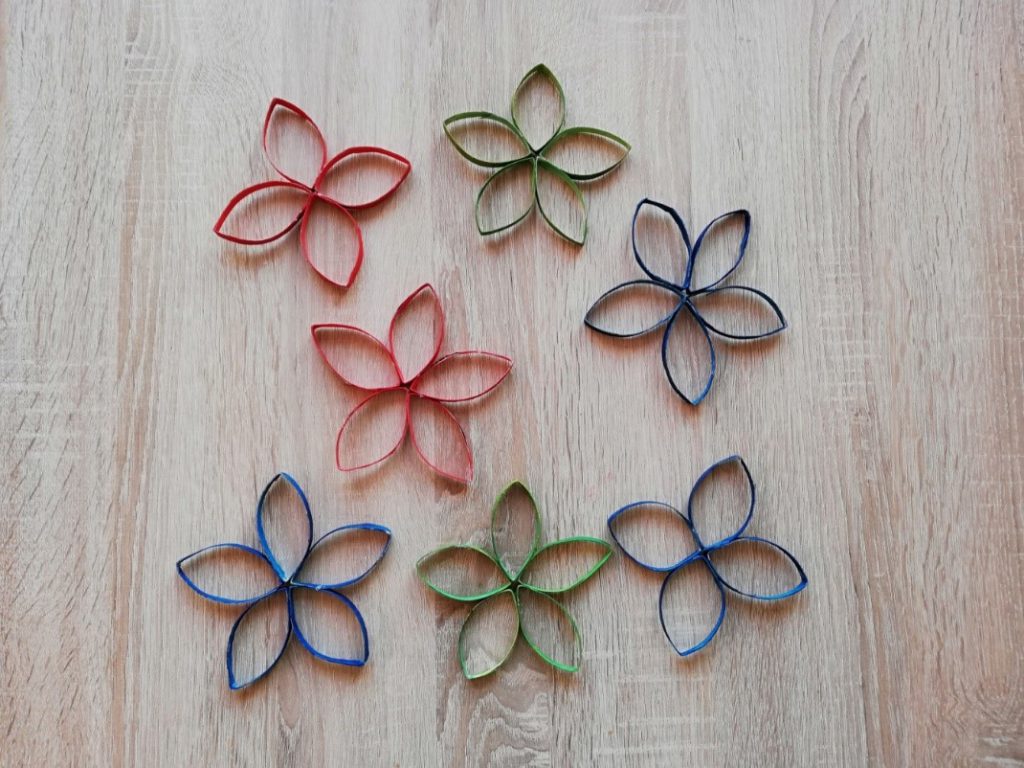 You will need:
several rolls of toilet paper,
acrylic paint, brush and water cup,
scissors,
glue gun with sticks.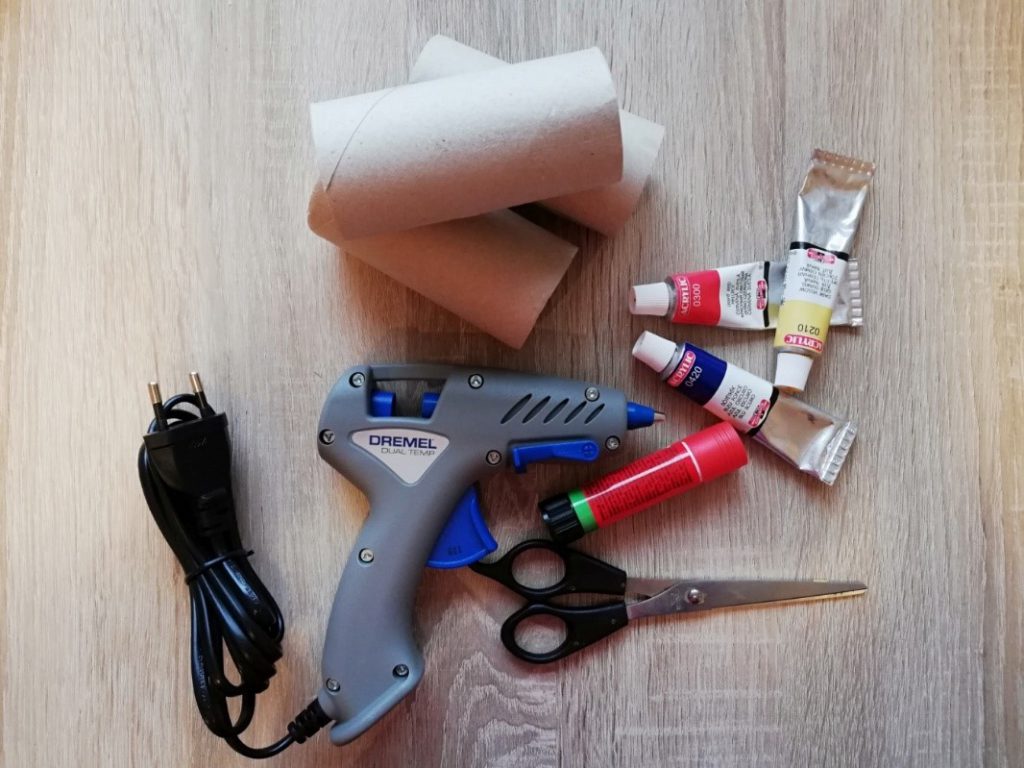 Instructions:
1. Paint all rolls with acrylic colors of your choice. If you do not want to have two-colored flowers, we also recommend that you paint them from the inside too. Let it dry (at least for 1/2 hour). If you do not want to dirty your hands with brush and paint, use a spray paint. Best to use it in the final phase, when you already have flower petals glued together.
2. Break the rolls in half in order to create an ellipse shape. Meanwhile, warm the glue gun.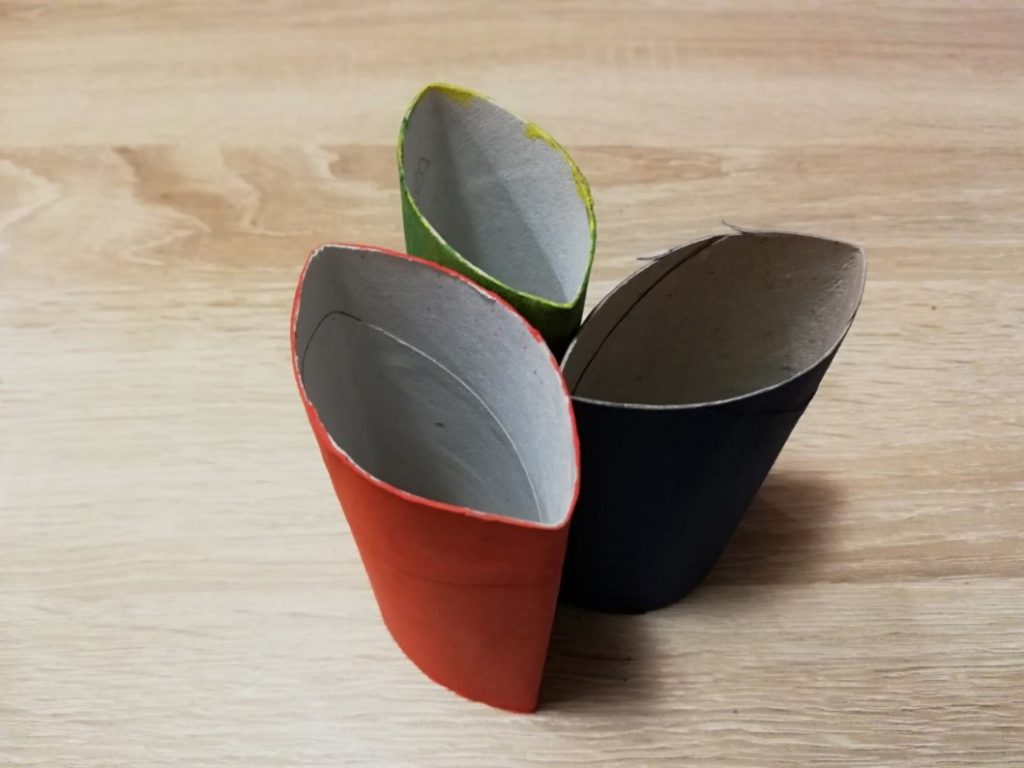 3. Cut them with scissors to approximately 5 to 7 mm wide strips. A few small ellipses will be created, i.e. flower petals.
4. Apply a small amount of glue from the gun to the edges of the petals and stick them together. You can make a flower out of 4 or 5 petals. In order to get the glue holding better, you can use clothespins for individual glued parts for a few minutes. All done.
Tip for you: You can hang the flowers on your window, stick them on the canvas, combine several flowers together to create one large pattern (such as a wreath) or use them as a Christmas tree ornament or just a wall decoration.
There are many possibilities
This was just a small and especially practical demonstration of giving a second chance to, on the surface, useless toilet paper rolls. For example, they can also serve as an organizer – for your son´s car toys, stationery items on the office table, or always tangled cables and various chargers. You can also make an Advent calendar from them, a mobile holder, and a countless number of animals for your kids.
Next articles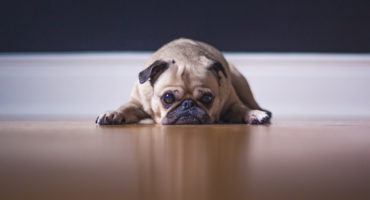 There are many studies that confirm that living with a...
Show more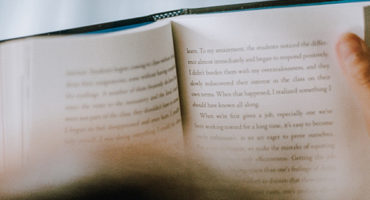 There is truth in the popular saying that books are...
Show more